I'm not really huge on lip products. I'm usually content with just lip balm. However, I do want to try to get into lip products because there are just some lovely colors out there! :) Plus, I have a decent amount of lip products that are just going to waste being stored away!
In my last
Glam Bag
, I received Starlooks' Lip Pencil in Bare. Perfect for me to experiment!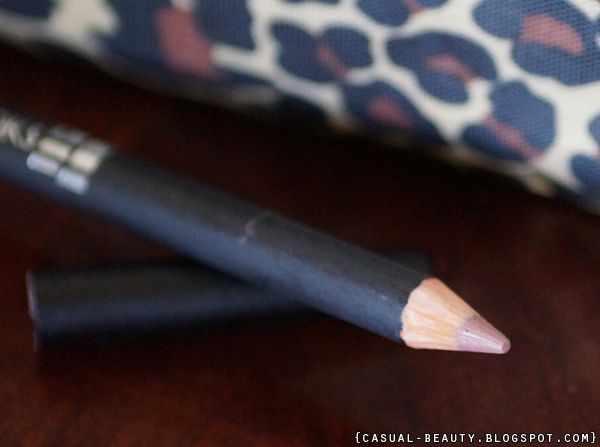 Starlooks describes this product as a "
long-lasting, full-coverage Lip Pencil [that] enhances the shape of your lips and gives them perfect contour and definition, with high-end quality you've never before experienced. This creamy, moisturizing formula glides on softly to smooth lips and ensure lipstick stays in place, while extending its wear. Can also be used as an allover, highly-pigmented lip color.
" [
Source
]
If you read my post about my
June Glam Bag
, you know that I was excited about this product because of the reasons I mentioned above. At first glance, I immediately thought it would be perfect for my nude or "my lips, but better" lip colors.
Upon first application, my first thoughts were, "Wow. This feels really nice!" I really liked how soft it felt and that it just glided smoothly across my lips. So, I do have to agree with their claim for it being creamy, but I don't think it's moisturizing. I mean it didn't dry my lips out, it just doesn't moisturize in my opinion.
There were just two things I didn't like about this product: the color I received and the packaging. The color... It just doesn't match me and I'm just not sure who it will look good on. The shade "Bare" is in the mauve color family, but I think there's just too much of a purple tone in it. When my boyfriend saw this lip liner on its own, he told me that it looked like I was losing oxygen. Definitely not a good look! lol. The color is also why I cannot comment on the longevity because I didn't leave it on long enough to find out since I couldn't find a lipstick that looked good over it. And what bugs me about the packaging is that the cap falls off so easily. Even when I'm pushing it on there, making it snug... when I pull it out from its storage, the cap comes right off! Am I the only one with this problem?
I am considering purchasing this product, but definitely in a different color, because of how smooth application is. As of right now, I think I'll hold off on that purchase because I just recently signed up for Starlooks' Starbox and I want to see if I'll get this product again in a different shade from that subscription.
What are some of your lip liner recommendations? And do you have any suggestions on how I can make this lip liner work?
Hope you're having an awesome day!
Thanks for stopping by!




Let's connect on { Bloglovin' } { Instagram } { Tumblr } { Twitter } ☮ ♡ :)